The materials that we collect, sort, process or trade come from private households and all areas of industry and commerce. By recycling them, we ensure that industrial production is resource-friendly and more sustainable. This is part of our contribution to climate protection.

Compliance with environmental standards places our activities on a footing that our customers can trust. Among other things, this includes certification as a specialist waste management company, checking scrap for radioactively contaminated material and environmentally friendly storage of metal shaving in an accredited treatment area.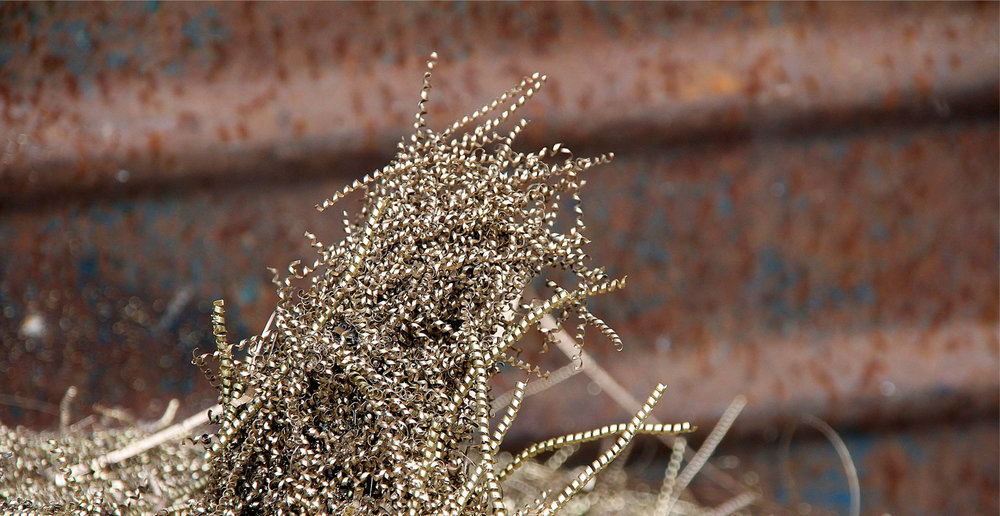 Iron scrap metal
As a scrap management company, we collect and process iron scrap in such a way that it can be processed into high-quality products in steel mills. The scrap industry and the steel industry work closely together to guarantee high quality assurance standards. Steel scrap lists have been drawn up for this purpose at both national and international level.
Non-ferrous metals
The scrap metal trade is the most important raw material source for the production of new metals. Our aim is to provide the economic cycle with scrap metal of the highest quality.
Electronic scrap
Electrical appliances have shorter lifespans and the speed of innovation in this sector is leading to an ever-increasing volume of electronic scrap. Recycling in this sector is very important so that rare earth elements can be recovered. The legislator has therefore enacted regulations on taking back items.
We are a system partner of take-e-way GmbH and participate in the nationwide take-back system for old electrical appliances.
We accept old electrical equipment of all origins free of charge as part of the take-back system.
Gebrüder Fabian is the right partner for commercial electronic scrap.
We would be pleased to advise you and submit an individual proposal. On request, we can also provide you with the appropriate container for collecting electronic scrap. Payment as per applicable daily rates.
Disposal
Our range of business also includes the disposal of your non-metallic commercial waste. We analyse your individual requirements and provide you with the appropriate container.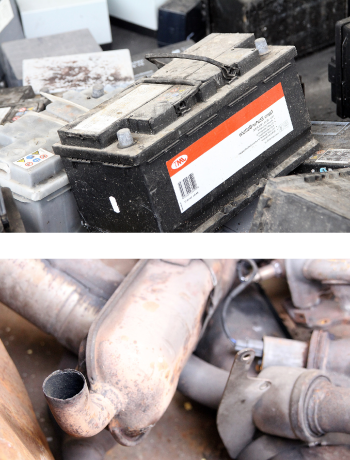 Batteries, catalytic convertors
Old lead-acid batteries - better known as lead accumulators - consist of lead, lead dioxide and diluted sulphuric acid. These must be collected and professionally reprocessed.
Lead batteries are almost 100% recycled - a level that no other battery system will be able to match in the foreseeable future.
More than 95 percent of the materials used in batteries are recyclable and so can be completely recovered during recycling. Due to their properties designed for various applications, many catalytic convertors are also coated with precious metals. These valuable materials can also be reused after the catalytic convertor has worn down.
From collection and processing to the recycling of lead, acid and plastic, we can recycle these valuable raw materials almost completely and reinject them into the economic cycle.
Disassembly
You can also count on us as a reliable waste-management partner for all types of industrial and commercial demolitions, core removal work, machine demolitions and clean-up work.
We can support you whether you are demolishing a residential building or demolishing and dismantling of entire office buildings, factory buildings, machines or technical installations. In cooperation with our partners, we can also support you with the complete planning process.
Please feel welcome to contact us. After an on-site inspection by our specialist staff, we will submit you an individual proposal - exactly as you wish.
Recycling
Our company recycles a wide range of materials. After pre-sorting, impurities are removed from the batches in subsequent processing steps, rejects are removed and the material is mechanically and manually dismantled in order to continuously improve the quality of the starting materials. In addition to our other equipment, we also have X-ray fluorescence analysis equipment for this purpose.
We work closely with our customers. We deliver some of our materials directly to production, both at home and abroad. Other batches are sent to other scrap wholesalers, who use larger aggregates to further prepare our materials for use in steel mills, foundries or smelting works.